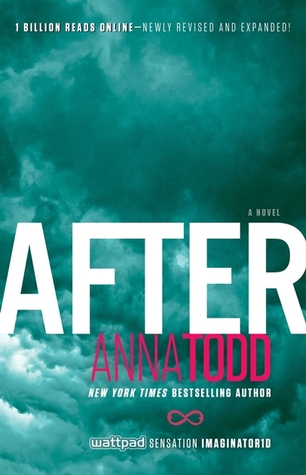 [book-info]
Tessa is a good girl with a sweet, reliable boyfriend back home. She's got direction, ambition, and a mother who's intent on keeping her that way.
But she's barely moved into her freshman dorm when she runs into Hardin. With his tousled brown hair, cocky British accent, tattoos, and lip ring, Hardin is cute and different from what she's used to.
But he's also rude—to the point of cruelty, even. For all his attitude, Tessa should hate Hardin. And she does—until she finds herself alone with him in his room. Something about his dark mood grabs her, and when they kiss it ignites within her a passion she's never known before.
He'll call her beautiful, then insist he isn't the one for her and disappear again and again. Despite the reckless way he treats her, Tessa is compelled to dig deeper and find the real Hardin beneath all his lies. He pushes her away again and again, yet every time she pushes back, he only pulls her in deeper.
Tessa already has the perfect boyfriend. So why is she trying so hard to overcome her own hurt pride and Hardin's prejudice about nice girls like her?
Unless…could this be love?
Review
College, like high school can be a cruel experience, and that's exactly what Tessa found out after beginning her freshman year at WSU.
To start, I was unaware that this novel was originally written as a Harry Styles fanfiction. The novels previous history came up as I was reading other reviews on this novel. I was quite surprised by the number of negative reviews, but I suppose there's always going to be a controversial debate between loving a book and detesting it.
When we meet Tessa in After, she is new to adulthood and just starting her freshman year of college. She appears to be under her mother's strict rule of thumb, and comes off as a bit prudish. She's lived the life of a "square" up until now in all aspects of her life. In other words she's awkwardly innocent, a tad naïve and determined to maintain a 4.0 GPA. Did I mention she also has a relationship with a boy from the high school she graduated from, yet to graduate himself and he could arguably be more "square" and prudish than Tessa. Enter Hardin, a man with an "I hate the world" bad boy complex complete with tattoos and piercings who leads a life exactly opposite from Tessa. The two begin down a road of hatefulness and hostility that evolves into love and ultimately leads to heartbreak.
To be frank, I should have hated this book, I wanted to hate this book, it features some themes I'm absolutely against, but I couldn't put it down. After was very easy to relate to in some aspects. I suppose also that I liked the book because it was real. It wasn't just about the usual fluff that is usually written as a romance novel. The novel brought up real life issues that some people face in relationships. Most people in real life never find that happily ever after, or some have to travel down the bumpiest roads to get there. After sheds light on some themes that are delicate to read about, and isn't for the faint of heart.
Tessa was awkward. Cringe-worthy awkward. At some moments the things she said and did were funny, and other times down right sad. In the beginning I felt that she wasn't really her own person. She had been controlled in what to do, what to say her and how to live her life, for most of her whole life. It wasn't until she started going to college that she really got the chance to break out of the shell that she'd been living in. We really see this after she starts hanging out with Hardin more. By the end of the novel she has changed. She's become her own person and I feel that she's better for it. Though I feel her relationship with Hardin was toxic, I believe that in order for her to become her own person it needed to happen. That wasn't the only relationship in her life that was abusive and in order for her to have really seen it and try and remove it from her life, she needed to go through what she did.
Hardin was an asshole. That's putting it mildly. What he put Tessa through broke my own damn heart, and by the end of the novel I didn't really know what to believe anymore. I was speechless and after I closed the book I had a 'wtf just happened?' moment. While he was as brutal as he was, it left me wondering that maybe he acted the way he did for show. I'm hoping that his feelings, though buried are still there, and that he's just damaged and doesn't know any better.  One question that's burning through me that's making waiting to get the second book feel like hell is, why the hell did he let her in that deep if he was playing her? The feelings and issues he alone faced, the things Tessa helped him face, it doesn't add up to what happened in the end.
All in all I thought this was a good book. It was a long book, but somehow I managed to eat the words and the hours and pages just flew by like minutes. I don't recommend this book if you have really strong views about abusive relationships. I will most definitely be reading the second book, and more than likely I will finish the series.